PDF to Office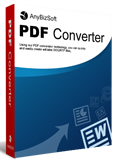 Convert native PDF files to copies in Word, Excel, PowerPoint, EPUB, HTML and Text formats
So you can easily edit, re-use, re-organize, present, and share your PDF files, or read your PDF eBooks on iPad, iPhone, iTouch, etc
PDF Converter is a 6-in-1 PDF utility to convert PDF to Word, Excel, PowerPoint, EPUB, HTML and Text on Windows 7/Vista/XP platform. It performs quite quickly and efficiently which can save you a lot of time and money while dealing with native PDF files. Handling PDF tasks has never been so easy with AnyBizSoft PDF Converter.
Want to copy text from restricted PDF files?
Drag PDF files to PDF Converter, and choose to convert PDF to editable Microsoft Office formats, including Word, Excel and PowerPoint, or extract text from PDF files to plain text files. Then you can copy, paste and reuse PDF text easily.
Want to modify typos and misspellings in PDF files?
Just add PDF files into PDF Converter and convert PDF to Word, the output Word documents are fully-formatted and editable.
"Your fantastic program created a flawless DOC from an 11p manuscript containing Unicode characters in 3 languages (English, Russian, and Thai) --- this is a great program. I had lost my original DOC and only had my PDF -- this saved the day. Thank you!" ----Andy, Brisbane, Australia
Want to edit data and perform calculations on numbers in PDF tables?
PDF Converter also performs conversion from PDF to Microsoft Excel. So add PDF files to PDF Converter and convert them to Excel spreadsheets, all the text and numbers are fully-editable.
Want to present PDF contents to the audience attractively?
Just drag PDF files to PDF Converter and turn PDF files to PowerPoint presentations. You can easily edit the presentations and add animations to make your presentation more attractive!
"This tool is my handy tool to make presentations for the project assigned to me at college. It is easy for me to extract useful information found in PDF files. Really a time-saver! Thanks AnyBizSoft!"
----Peter, Bayport, NY, United States
Want to read a PDF eBook like a real book on your e-reader? (New)
Choose EPUB format after dragging your PDF eBooks to PDF Converter, and click Convert to convert your eBooks from PDF to EPUB format. Then you can enjoy the amazing e-reading experience just as reading a real book, because contents in EPUB eBooks will self-adjust the screen size of your iPad, iPhone, iTouch, Sony Readers, etc.
Key Features
Supported Formats
Input: Adobe PDF 1.0 - 1.7 formats (.pdf)
Output: Microsoft Word 2003/2007/2010(.doc, .docx), Microsoft Excel 2003/2007/2010(.xls, .xlsx), PowerPoint 2003/2007/2010 ( .ppt, .pptx), EPUB format (.epub), HTML format (.html), Text format (.txt)
Accurate Preservation
PDF to Word/ PDF to PowerPoint: PDF Converter preserves the original layouts of text, columns, tables, graphics and hyperlinks of PDF files to Microsoft Word documents and PowerPoint presentations. There's no need to retype or reformat the converted documents
PDF to Excel: PDF Converter provides 2 options for the output Excel spreadsheets: Retain value without formatting and Retain original formatting of forms. Retain value without formatting is the default option. It saves all the original text, numbers in PDF tables to Excel cells after converting PDF to Excel, without preserving the original formatting. While Retain original formatting of forms allows you to preserve text, numbers and formatting in the original PDF file. This option is not suitable for some un-regular PDF tables, as there might be some positioning error that may affect the usual calculation after conversion
PDF to EPUB: PDF Converter converts PDF files to formatted EPUB eBooks, with original text, graphics, images, layouts and hyperlinks by default (About hyperlink preservation: only text hyperlinks to web pages and e-mail addresses are preserved after conversion). In addition, it provides advanced options that allow you to customize the output EPUB files, such as the font size, background color, etc.
PDF to HTML: PDF Converter converts PDF files to web-ready HTML pages, with all the text, columns, tables, graphics and even hyperlinks precisely preserved. A multi-page PDF file is converted to multiple single HTML pages within a separate folder, with convenient navigation and page index bar on each page. In addition, PDF Converter also provides advanced option for you to customize background color and image quality of the output pages.
2 Efficient Conversion Modes
Batch conversion---Convert as many as 200 PDF files at one time
Partial conversion---Select any pages from the multi-page PDF file to convert
Support Encrypted PDF Files Conversion
Convert PDF files with copying and printing restrictions directly
Support password protected PDF files conversion by entering the password
Miscellaneous
Standalone, don't need Adobe Reader, Adobe Acrobat, and Microsoft Office to be installed
Extremely easy to use
User-friendly interface
Support PDF files in 12 languages: English, Turkish, Thai, Latin, Korean, Greek, Cyrillic, Japanese, Chinese, German, French, and Italian
Operating Systems
OS: Windows 7/XP/Vista/2003 32bit
Minimum Hardware Requirements: 500 MHz processor, 256 MB Memory, 15 MB hard disk space